Meeting held at the San Dimas Senior Center had a huge turn out. So much so, that residents were turned away due to the occupancy rating of the building.
A PowerPoint presentation was given by Golden State Water Company's Foothill District Manager - Ben Louis. Click here to view the PDF version of the June 2nd presentation.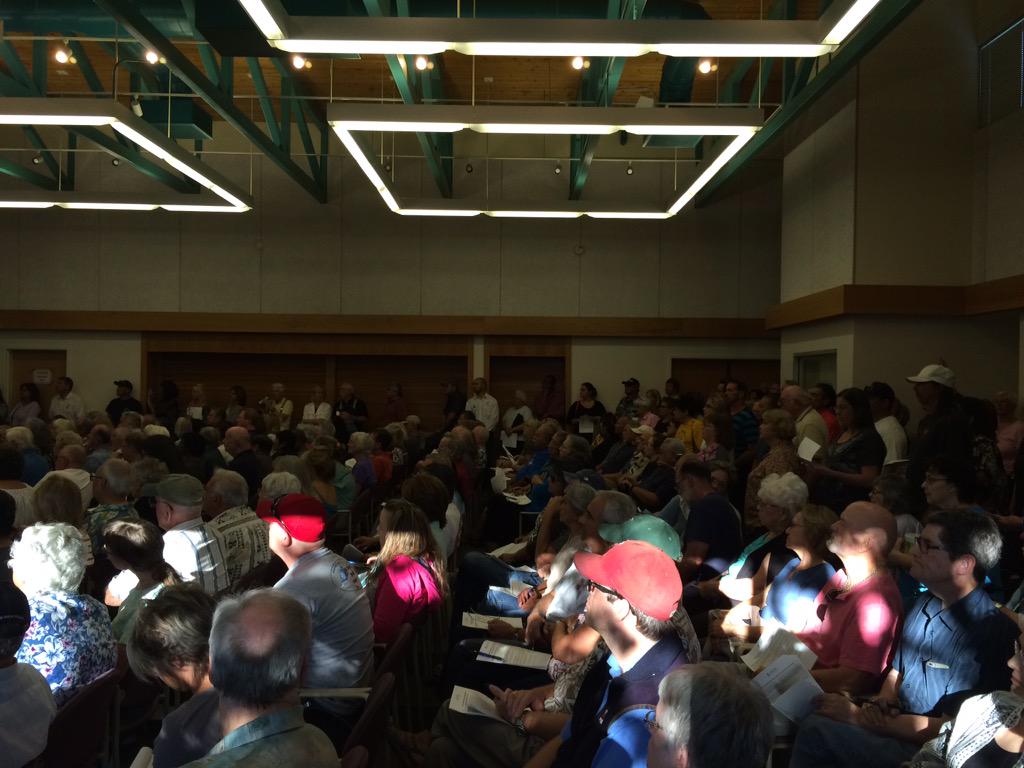 The meeting will be rescheduled and residents will be notified.
San Dimas Drought Notice Click here
Why did they hold this meeting? Its required by the CPUC before going into Stage 1 water conservation.
What is Stage 1? The main aspect to Stage 1 would limit outdoor irrigation to 2 days a week. Even numbered addresses on Monday and Thursday. Odd numbered addresses on Tuesday and Friday. Watering must occur between 7pm & 8am.
When does Stage 1 go into effect? Stage 1 goes into effect after the CPUC approves and Golden State Water notifies its users (2-3 weeks)
Do I need to water twice a week now? While it does not appear to be required at this point, it is strongly encouraged to start immediately.
How long should I water my landscape? Less than 10 minutes is recommended but keep in mind that the water should not cause water run off.
What is Stage 2, 3 and 4? Allocation limitations would be set on each water customer. 28% per customer. Customers that go over their allocation would be subject to surcharges for the excess use.
IF SAN DIMAS WATER USAGE GETS BELOW 28% COMPARED TO 2013, NO OTHER STAGES WILL BE USED. GOLDEN STATE WATER BELIEVES THIS CAN BE ACCOMPLISHED BY REDUCTION OF IRRIGATION WATER.
On May 5, 2015, the State Water Resources Control Board adopted emergency regulation implementing mandatory water reductions across California to cut water usage compared to 2013.
Based on average residential water use in summer 2014, the regulation assigned reduction that mandated 28 percent to the San Dimas water systems. The reduction mandates are effective June 1, 2015.
Plenty of rebates are available for those that want to improve their water use efficiency. Click here or if you are ready to apply Click to apply
Many humans become constrained when trying to know what their infants do when they are alone. Doubtless the most considerable matter that is ordinarily considered while thinking about android apps spy is select a good software. Truly purchase the software offered by many providers is highly elementary. Different respected services offer charterers a software that fits well with their needs and budget.